GIVEN TO THE SEA
, the first in an epic fantasy series.
Khosa is Given to the Sea, a girl born to be fed to the water, her flesh preventing a wave like the one that destroyed the Kingdom of Stille in days of old. But before she's allowed to dance – an uncontrollable twitching of the limbs that will carry her to the shore in a frenzy – she must produce an heir. Yet the thought of human touch sends shudders down her spine that not even the sound of the tide can match.
Vincent is third in line to inherit his throne, royalty in a kingdom where the old linger and the young inherit only boredom. When Khosa arrives without an heir he knows his father will ensure she fulfills her duty, at whatever cost. Torn between protecting the throne he will someday fill, and the girl whose fate is tied to its very existence, Vincent's loyalty is at odds with his heart.
Dara and Donil are the last of the Indiri, a native race whose dwindling magic grows weaker as the island country fades. Animals cease to bear young, creatures of the sea take to the land, and the Pietra – fierce fighters who destroyed the Indiri a generation before – are now marching from their stony shores for the twin's adopted homeland, Stille.
Witt leads the Pietra, their army the only family he has ever known. The stone shores harbor a secret, a growing threat that will envelop the entire land – and he will conquer every speck of soil to ensure the survival of his people.
The tides are turning in Stille, where royals scheme, Pietrans march, and the rising sea calls for its Given.
****************************************
THE FEMALE OF THE SPECIES
, a contemporary rape-revenge vigilante justice story.
Alex Craft knows how to kill someone. And she doesn't feel bad about it. When her older sister, Anna, was murdered three years ago and the killer walked free, Alex uncaged the language she knows best. The language of violence.
While her crime goes unpunished, Alex knows she can't be trusted among other people, even in her small hometown. She relegates herself to the shadows, a girl who goes unseen in plain sight, unremarkable in the high school hallways.
But Jack Fisher sees her. He's the guy all other guys want to be: the star athlete gunning for valedictorian with the prom queen on his arm. Guilt over the role he played the night Anna's body was discovered hasn't let him forget Alex over the years, and now her green eyes amid a constellation of freckles have his attention. He doesn't want to only see Alex Craft; he wants to know her.
So does Peekay, the preacher's kid, a girl whose identity is entangled with her dad's job, though that does not stop her from knowing the taste of beer or missing the touch of her ex-boyfriend. When Peekay and Alex start working together at the animal shelter, a friendship forms and Alex's protective nature extends to more than just the dogs and cats they care for.
Circumstances bring Alex, Jack, and Peekay together as their senior year unfolds. While partying one night, Alex's darker nature breaks out, setting the teens on a collision course that will change their lives forever.
****************************************
A MADNESS SO DISCREET, a Gothic historical thriller set in an insane asylum.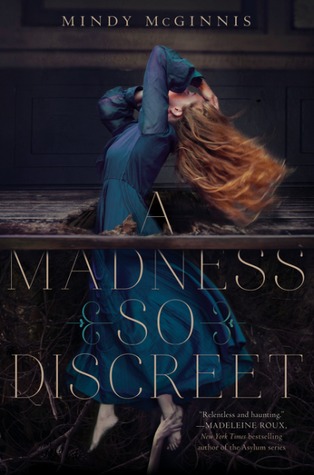 2016 Edgar Award Winner
Grace Mae knows madness.
She keeps it locked away, along with her voice, trapped deep inside a brilliant mind that cannot forget horrific family secrets. Those secrets, along with the bulge in her belly, land her in a Boston insane asylum.
When her voice returns in a burst of violence, Grace is banished to the dark cellars, where her mind is discovered by a visiting doctor who dabbles in the new study of criminal psychology. With her keen eyes and sharp memory, Grace will make the perfect assistant at crime scenes. Escaping from Boston to the safety of an ethical Ohio asylum, Grace finds friendship and hope, hints of a life she should have had. But gruesome nights bring Grace and the doctor into the circle of a killer who stalks young women. Grace, continuing to operate under the cloak of madness, must hunt a murderer while she confronts the demons in her own past.
****************************************
IN A HANDFUL OF DUST
, the companion novel to
NOT A DROP TO DRINK
features a post-apocalyptic road trip from Ohio to California... on foot.
The only thing bigger than the world is fear.
Lucy's life by the pond has always been full. She has water and friends, laughter and the love of her adoptive mother, Lynn, who has made sure that Lucy's childhood was very different from her own. Yet it seems Lucy's future is settled already—a house, a man, children, and a water source—and anything beyond their life by the pond is beyond reach.
When disease burns through their community, the once life-saving water of the pond might be the source of what's killing them now. Rumors of desalinization plants in California have lingered in Lynn's mind, and the prospect of a "normal" life for Lucy sets the two of them on an epic journey west to face new dangers: hunger, mountains, deserts, betrayal, and the perils of a world so vast that Lucy fears she could be lost forever, only to disappear in a handful of dust.
In this companion to Not a Drop to Drink, Mindy McGinnis thrillingly combines the heart-swelling hope of a journey, the challenges of establishing your own place in the world, and the gripping physical danger of nature in a futuristic frontier.
****************************************
My post-apoc YA debut,
NOT A DROP TO DRINK
, is a survival tale set in a world with very little freshwater. Available now from Katherine Tegen / Harper Collins.
Regret was for people with nothing to defend, people who had no water.
Lynn knows every threat to her pond: drought, a snowless winter, coyotes, and, most importantly, people looking for a drink. She makes sure anyone who comes near the pond leaves thirsty, or doesn't leave at all.
Confident in her own abilities, Lynn has no use for the world beyond the nearby fields and forest. Having a life means dedicating it to survival, and the constant work of gathering wood and water. Having a pond requires the fortitude to protect it, something Mother taught her well during their quiet hours on the rooftop, rifles in hand.
But wisps of smoke on the horizon mean one thing: strangers. The mysterious footprints by the pond, nighttime threats, and gunshots make it all too clear Lynn has exactly what they want, and they won't stop until they get it….
With evocative, spare language and incredible drama, danger, and romance, debut author Mindy McGinnis depicts one girl's journey in a barren world not so different than our own.